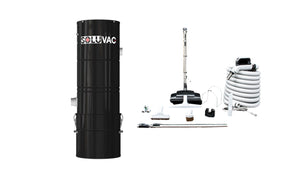 Soluvac SVS-800 with 35' EBK341 ElectricKit
Soluvac SVS-800 with 35' EBK341 Kit:

SVS-800 MODEL:
Air watts: 730
Noise level: 63 dB
4.9 gal./ 18.8 L garbage container capacity
Filter bag/ garbage bag optional
Maximum Amp: 15 A
Self cleaning permanent filter
Voltage 110-120 V
Water lift 140.5 in.
 Wessel Werk EBK341 Kit:
Kit includes Wessel Werk EBK341 power head for carpet , 35' electric hose with 3 way switch, floor brush for hard surfaces, 2 wands, hose rack and attachments.
EBK341 Power head:
Four soft wheels allow power head to be used on carpet and hard surfaces without the risk of damage to the flooring.
swivel neck
Locking neck allows the user to park the hose connected without falling over
12" cleaning path
Fiber glass heavy duty geared belt
Motor with superior sound proofing for quite operation
MADE IN GERMANY
Works with all major brands.
For Home up to 7500 sq feet Bungalow or 4000 sq feet multi story.