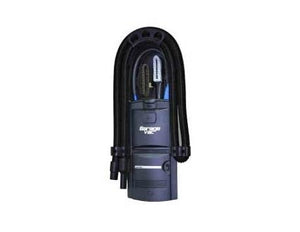 Intervac Garage Vacuum/ Cottage Vacuum .8-GH-120-E
GarageVac - Surface Mounted Compact Central Vacuum Power Unit

Installs in 10 minutes or less.
Create your own car detailing shop and save space. No more bulky canisters or complicated installations. The GarageVac installs in as little as 10 minutes and takes up half the wall space of other garage vacuums. Designed with the garage in mind, GarageVac helps you organize your space and gives you all the tools you need to keep it clean.
With two installation options, GarageVac is the only central vacuum cleaner in the world that can be installed flush in a 2 x 4 stud wall or can just hang on the surface of the garage wall. GarageVac is so flexible it can work with any garage organization system on the market. And there's no need to be confined to the garage with your GarageVac unit! Our wall mounted option makes GarageVac portable. Just take it off the wall when you're heading out in the RV or Boat. Use it in the cottage or cabin or inside the home in the utility room or bonus room.
There's no nook or cranny you can't reach with the floor tool, telescoping wand, elongated dust brush, crevice tool and upholstery tool. And the unique 35-foot stretch hose shrinks to 8ft for easy storage - just wrap it around the power unit and it's safely out of the way.
Garage Vac features HEPA type filtration - that means no dust or allergens are exhausted back into garage. And the easy-to-replace bag that holds about a gallon of debris, means you'll go a long time between changes.
The GarageVac includes:
(1) 35 foot stretch hose that shrinks to just 8 feet for easy storage
(1) Non-corrosive Telescopic Wand
(1) 2-part Upholstery Brush
(1) Crevice Tool
(1) Bare Floor Tool with Rollers and Horsehair
(1) Elongated Dusting Dashboard Brush
(1) Wand Holder Clip
Technical Specifications:
Volts - 120
Amps - 12, 50/60 hz
Water Lift - 110"
Air Watts - 400
Dirt Capacity - 7 lbs (1 gallon)
Made of durable Polycarbonate/ABS that will not rust or break
High Efficiency Micron Triple-Filtration Process
Dimensions - 9-1/2"W x 29-9/16"H x 4"D
5.5 foot long electric cord attached  
Warranty: 6 years