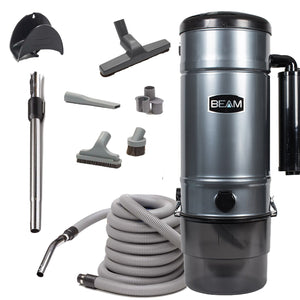 Beam Serenity SC398B with 35' Standard air kit for hard surfaces
$98900

$989.00

Save $230.99
---
---
Beam SC398 unit:

680 air watts
Efficient 2-stage, 7.2″ motor
HEPA filtration
Utility inlet on unit
Soft start motor for increased life.
Gore Technologies™ HEPA CleanStream™ self cleaning filter
25 Liter dirt Receptacle in Clear-smoke
Sound level: 78 dBA
Cleans home up to 12000 square feet bungalow or 6000 square feet multi story home
Standard Air KIt:
Beam Standard  Air Kit Includes 35' 24V  crush proof air hose , chrome telescopic wand, floor brush, upholstery tool, dusting brush, crevice tool and hose rack.
This Central Vacuum System Comes with standard air  hose set for hardwood, laminate and tiles only.